Service and quality guaranteed
Many years of experience in cleaning services for both residentals and business spaces. Contact us today! We are ready to help you.
Experts in deep cleaning
We make every effort to select, train and guide our colleagues. That way, they can deliver professional cleaning results and have fun at the same time!
Innovative cleaning company
We listen to your wishes and provide you with advice based on our experience. We learn new techniques every day. And we work with the latest cleaning technology. That is something we will continue doing forever.

High customer satisfaction
A professional work attitude, and of course, a sincere smile. Our customers rate our general service with a 9,2. Besides that we have also been a loyal sponsor and partner of the KWF foundation against cancer. And that makes us extremely proud!

Experienced deep cleaners
With more than 25 years of experience TopCleaners is a well regarded cleaning company in the area of Breda. Our team consisting of more than 70 enthusiastic employees work joyfully on various cleaning projects.
Guaranteed the best choice for your deep cleaning project
Both companies as well as individuals choose TopCleaners for their cleaning job. Usually that includes a deep cleaning job or the cleaning of a house after a renovation. But we also offer cleaning services for construction companies. We are proud to say that we are the cleaning company with the most experience and best results when it comes to deep cleaning in and around the area of Breda. Can we help you with your deep cleaning job? Contact us today!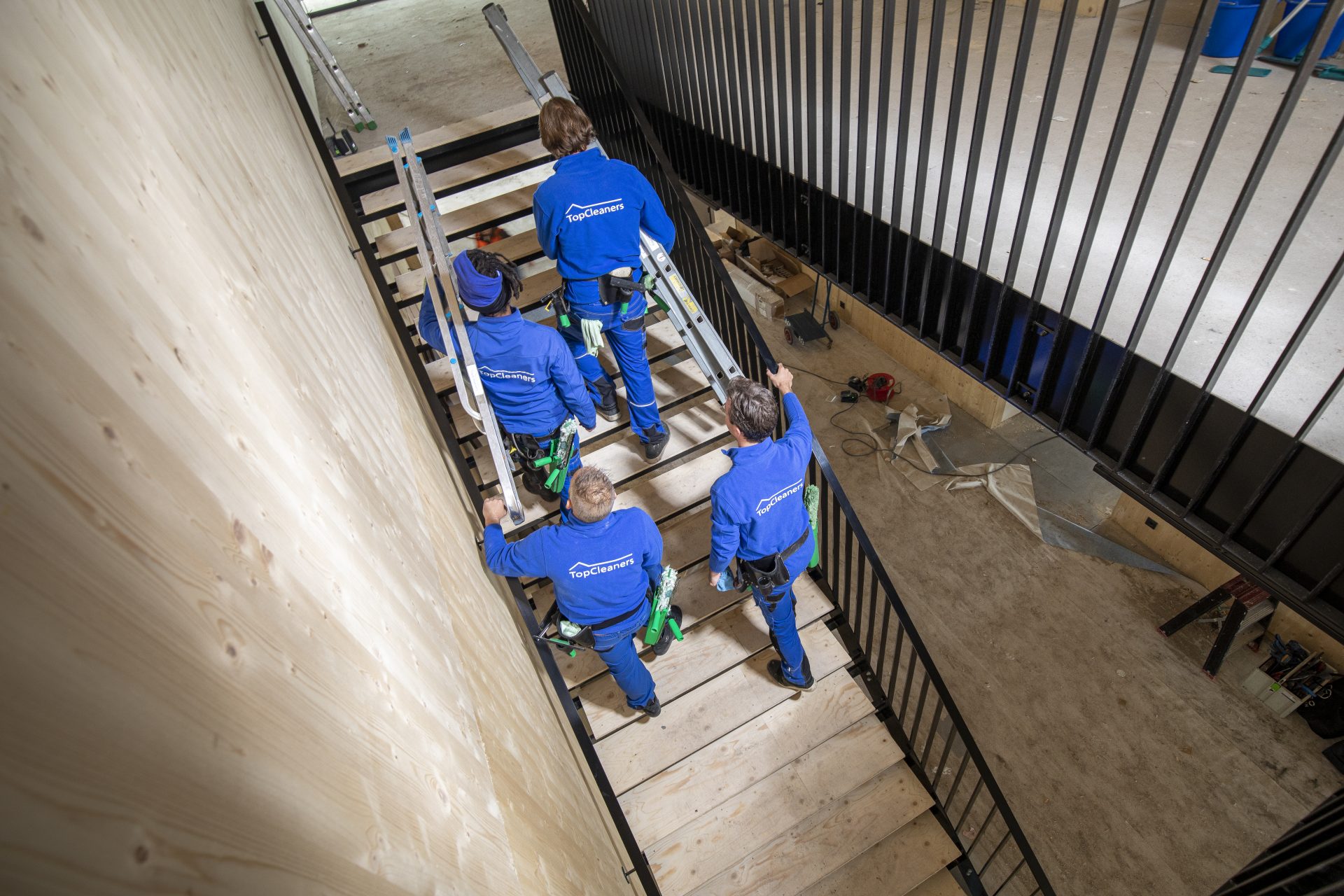 Cleaning after moving
Did you just move into your new home? Or are you still in the process of leaving your old house? Choose for the comfort of the cleaning services from TopCleaners. We usually plan a deep cleaning job before the house is transferred to the new owner. Or even before the broker comes to take pictures. Do you want to hire us for your deep cleaning job? We offer the service that meets your expectations.
Professional cleaning
Every day we carry out deep cleaning in various areas in and around Breda. We do this with dedicated teams that are well-coordinated. Each cleaner has their own task, and we help each other when needed. Depending on your preferences we can clean various areas of the house. For example, the kitchen, toilet, windows, facades and floors are thoroughly cleaned.
Deep cleaning
Are you nearly finished with your renovation and would you like to outsource the final deep cleaning? We would be happy to handle the cleaning for you. We work with individuals, real estate agents, construction companies, housing associations and contractors. Thousands of homes have been delivered clean by us. Our years of experience allow us to work efficiently. We use the latest cleaning materials and products. All of our cleaners are experienced, enthusiastic and professional.
At TopCleaners we specialize in performing professional cleaning services after renovations and relocations. We also cater to the commercial market. Various construction companies hire us to carry out the final deep cleaning in new construction projects. Thanks to our extensive experience, we have built a large customer base with recurring clients. Several construction companies, real estate agents and property owners in and around Breda regularly make use of our services to outsource their cleaning tasks. With years of experience we have all the necessary resources and expertise to execute a final deep cleaning in a structured and efficient manner.
Of course, we discuss your specific needs and requirements prior to the cleaning job. Upon completion, the property will be dust-free and clean. We remove any cement residue from tiles and ensure that baseboards, electrical outlets, window frames and cabinets are thoroughly cleaned. Our goal is to provide you with peace of mind. Over 70 motivated cleaners handle the most diverse tasks on a daily basis. We use high-quality cleaning materials and the best cleaning products. During our cleaning process, we strive to minimize environmental impact. Are you planning to move and haven't yet found a company to take care of the final cleaning before the deep cleaning? In that case, we would recommend De Mannen Van Stoof which is a moving company.
428
Business units cleaned
5
Specialized cleaning teams