" Schoonmaakbedrijf TopCleaners verzorgt de opleveringsschoonmaak voor onze op te leveren bouwprojecten. Wij zijn erg tevreden, de werknemers zijn betrokken en maken goed schoon. Gemaakte afspraken worden altijd nagekomen."
"Gisteren heeft Topcleaners bij ons schoongemaakt bij Jumbo Roosendaal Lindenburg.
Zeer tevreden over het werk en de geleverde service.
De medewerker was enthousiast, snel, nauwkeurig en flexibel.
Hij pakte ook werkzaamheden op die in eerste instantie niet waren afgesproken.
Topcleaners is wat ons betreft zeker een bedrijf om aan te raden als het gaat om schoonmaken!.."
" Goede schoonmaak voor een prima prijs, fijn schoonmaakbedrijf!"
" Na de verbouwing hebben we ons huis laten schoonmaken door schoonmaakbedrijf TopCleaners. Femke en haar team hebben onze woning keurig schoon achter gelaten. Bedankt voor de super service! Ik zou jullie zeker aanraden. "
Experts in cleaning
We make every effort to select, train and guide our colleagues. That way, they can deliver professional cleaning results and have fun at the same time!
Innovative cleaning company
We listen to your wishes and provide you with advice based on our experience. We learn new techniques every day. And we work with the latest cleaning technology. That is something we will continue doing forever.
High customer satisfaction
A professional work attitude, and of course, a sincere smile. Our customers rate our general service with a 9,2. Besides that we have also been a loyal sponsor and partner of the KWF foundation against cancer. And that makes us extremely proud!
Experienced cleaners
With more than 25 years of experience TopCleaners is a well regarded cleaning company in the area of Breda. Our team consisting of more than 70 enthusiastic employees work joyfully on various cleaning projects.
Service and quality guaranteed
Cleaning company Topcleaners provides cleaning services for both business residentials in Breda. Our team consists of over 70 enthusiastic and professionally trained cleaners. We deliver the highest quality and reliability in cleaning services in Breda. We have accumulated years of experience in the field of cleaning maintenance. We prioritize workplace safety and engage in socially responsible business practices. If you would like to discuss the possibilities without any obligations, you can contact us by phone or email. We are ready to assist you with your cleaning needs.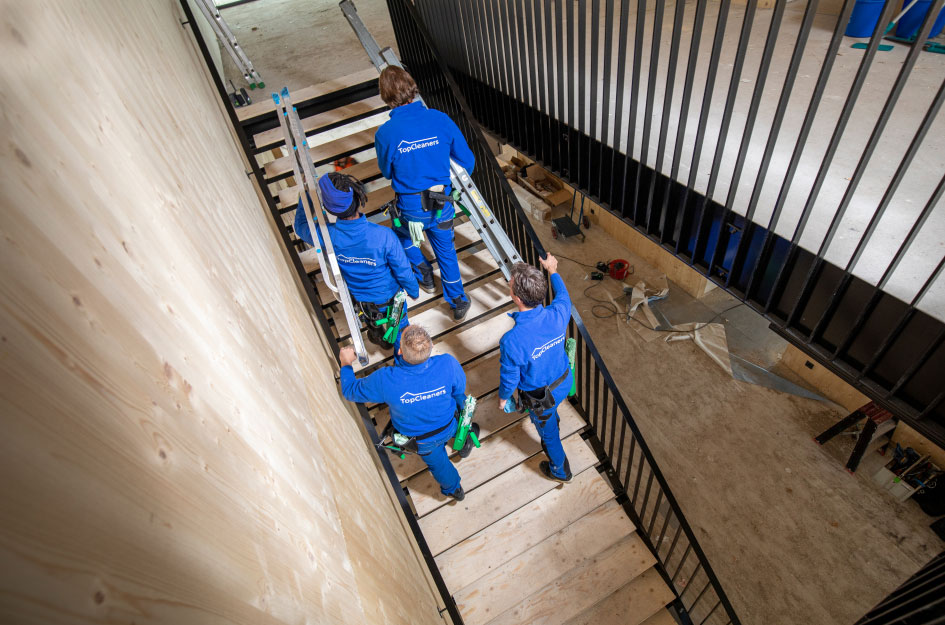 We are affiliated with the following associations:
Cleaning company Topcleaners in Breda
You can rely on us for regular cleaning maintenance for both business and individuals, final cleaning, move-in/move-out cleaning, window cleaning, patio cleaning, facade cleaning and specialized maintenance. But you can also hire us for the annual spring cleaning or a one-time cleaning to get rid of the dust in your house. In addition to Breda, we also offer cleaning services in Rotterdam, Tilburg, Oosterhout, Etten-Leur and Roosendaal.
Our various cleaning disciplines deliver a spotless result. Natural environmentally friendly cleaning materials and products are used to minimize the impact on the environment. You can find more information regarding our corporate social responsibility under the "CSR" section.
Our customers rate our overall services with a score of 9.1. We are incredibly proud of this! However, we continue seeking ways to further improve our services on a daily basis.
Cleaners with attention to detail. Our cleaning company now consists of over 70 motivated and dedicated cleaners. We all possess the necessary skills and knowledge. This way we all work towards the same goal: a satisfied customer.
Equipped with high-quality cleaning materials, we embark on our daily tasks. Our strength lies in our efficient communication and flexible attitude. And when we make a promise, we truly stick to it. Did you know that since 2023 we also offer cleaning services in the province of South Holland?
As a well-known cleaning company in Breda, we are always ready to assist our customers and colleagues. Moreover, we make every effort to minimize our impact on the environment during our operations. You can find more information about our corporate social responsibility under the "CSR" section on our website.